Posts Tagged 'Union County NC'
Follow HOPE on Instagram for the latest updates: hope_union_county_christmas
Good afternoon —
We are getting settled into the Distribution Center at Monroe Crossings and have opened our Monday – Friday slots for toy sorting and filling wish lists. There will also be other tasks to complete depending on the dates that you select.
You may register using this link (you may have to copy and paste into your browser):
https://www.cervistech.com/acts/console.php?console_id=0234&console_type=event
We also have a need for furniture for a family that our social workers are working with.  They are in need of a sofa, 1 full bed, 2 twin beds.  Can you help with this?  If so, please email me at Gloria.haney@unioncountync.gov
Thank you and we wish you a blessed Thanksgiving!
We are grateful to all of our volunteers who support the Union County Christmas Bureau through the gift of your time. However, if you can't volunteer this year, or if you are looking for another way to help, we wanted to let you know that we always accept monetary donations through HOPE for the Christmas Bureau of Union County, a 501(c)(3) charitable organization.
With the generous support of many in our community, the Union County Christmas Bureau makes Christmas a special time for many children and families in Union County. The tax deductible contributions received by HOPE are used to purchase gifts and food for families to enjoy over the holidays. To the parents struggling to provide their children with a Merry Christmas, your contributions can help lift part of the burden off of their shoulders. For many of Union County's less fortunate children, these donations let them experience the joy and warmth of the Christmas Season that every child deserves.
To make a contribution online please click on this link.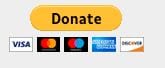 We also accept checks mailed to our PO Box: HOPE for the Christmas Bureau of Union County, PO Box 79104, Charlotte, NC 28271.
For more information about HOPE and the Union County Christmas Bureau, please visit HOPE's website at hopeunioncounty.org. We gratefully appreciate the support from the Union County community and wish you all a joyful holiday season.